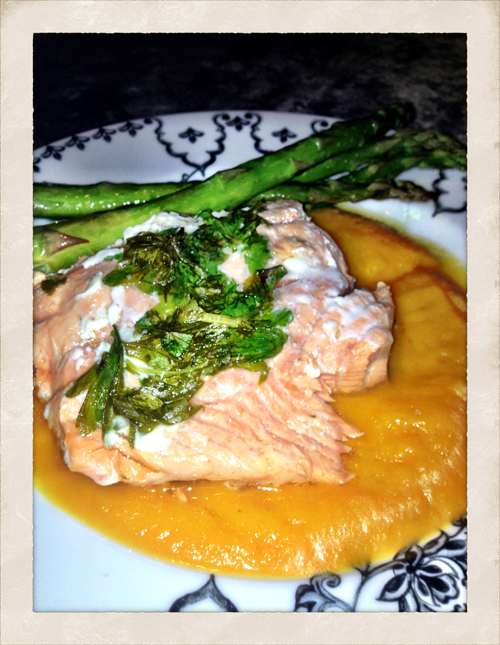 Hey all my gluten free friends!!  With all the holiday festivities and everyone running around like mad I'm sure YOUR not your number one concern.  Unfortunately when you are dealing with this every changing autoimmune disease taking a "day off" is a luxury you just don't have.  I know for me I've been so busy lately that inflammation creeps up every once and a while indicating that something is off.  So I took a break from all the green and red around a decided to go ORANGE!   If you follow this blog you know how excited I get for all things fall, especially the colorful shades of orange veggies.  Not only do I love the color but the nutrition benefits are amazing and perfect in reducing inflammation!  I decided on mashed Butternut Squash over organic WILD Salmon with a touch of green Asparagus to keep with the green of the season.  Butternut squash is packed with vitamin A and full of antioxidants to support a healthy immune system and reduces chronic inflammation.  Did you also know that it also helps support a healthy reproductive system??  Then, of course there is the the wonderful, omega 3 packed salmon – full of vitamin D, selenium, and again controls inflammation.  To round it off, some detoxifying asparagus that also helps reduce pain and inflammation. An easy, quick, healthy dinner to nourish YOU this crazy holiday season.
Enjoy
Mashed Butternut Squash over Wild Salmon and Asparagus
PreHeat Oven to 375
Ingredients:
2 Cups cubed butternut squash
2 pieces of wild salmon about 1 1/2  (can double)
1 bunch of asparagus
olive oil ( about a half a cup, separated)
sea salt/ pepper to taste
A few sage leaves
tablespoon chopped parsley
2 tablespoon rice milk
2 tsp fresh lemon juice
Directions:
place cut up squash on a baking dish and bake until tender
When squash is done remove from oven and set aside.
Then take salmon and place in aluminum foil, skin side down.  Sprinkle with about 2 tbsp of olive oil, parsley, fresh lemon juice and sprinkle with salt and pepper.  Wrap up so salmon is enclosed and place in baking dish.   Bake for about 15 to 20 minutes.  Depending of thickness this time will vary.  Check with a fork, inside should be still pink while outside is pale pink/white-ish.
Take another piece of tin foil and place the asparagus on it.  Sprinkle with 1 tablespoon of olive oil, sprinkle with sea salt and squeeze some fresh lemon.  Again cover with the foil and place on a baking sheet and bake until crisp.
In the meantime place squash in standing mixer or use hand mixer, add the rice milk, olive oil, and salt and pepper.   Whip until creamy
Place whipped squash on plate, top with cooked salmon and asparagus.