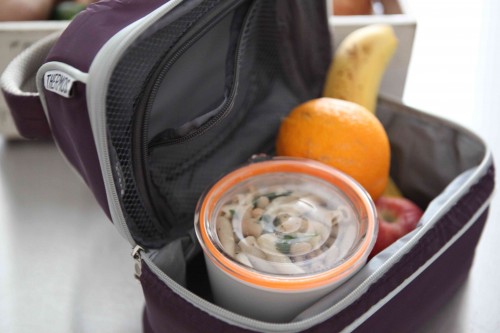 When I'm working on the set of Blue Bloods, rarely can I eat what Kraft services or catering has to offer because of all my extreme allergies. And while the show is only an hour on TV the amount of hours and days and nights that go in to creating the show is a whole other beast… The days are long and nights can be longer. Although Krafty always tries to have something for me, I'd rather be safe by preparing my own food. So I really have to prep for these work days and bring plenty of food to set to keep me going and my energy high. We all probably find ourselves in situations where we need something quick and easy but still want it to taste good while filling us with nutrients to get us through!
So! Whether it be for a quick dinner or a light snack I love making this pasta dish!! It's low in fat and cholesterol, loaded with fiber and iron from the cannelloni beans, and rich in antioxidants and calcium (along with tons of vitamins such as C, E, folate, omega-3 fatty acids…!) from the spinach. This dish is so low maintenance – it literally takes one pot to prepare, has very few ingredients, and is simple to make! It's so good and easy that I always keep the ingredients stocked in my pantry. I will make it for dinner one night and keep the left overs for work the next day or two. And while it tastes just as good at room temperature, it reheats very nicely. I personally like to add a bit of water when reheating to reignite the starches and then becomes really thick, almost like there is cream in it! Add a bit more olive oil, salt and pepper to taste and there you go!
A great quick healthy 4 ingredient snack or meal!
Pasta with Beans and Spinach
Ingredients:
1 bag of gluten free pasta (my favorite is Tinkyada!)
2 handfuls of fresh baby spinach
Small handful of fresh parsley chopped
1 can cannelloni beans
Olive oil
Salt and pepper to taste
Directions:
1. Bring a large pot of salted water to a boil.
2. When water is bubbling pour in one bag of pasta and turn down heat to medium for slow boil.
3. In the meantime drain beans and rinse.
4. Rinse spinach, pat dry with paper towel and set aside.
5. Check pasta often. Should be firm yet easy to chew (check package for directions).
6. When done drain pasta and rinse lightly with lukewarm water. Leave pasta in strainer.
7. Using the same pot the pasta was cooked in add about a half cup of olive oil and the beans and cook on high heat.
8. Add salt and pepper to taste and continue stirring.
9. Throw in parsley and stir together. Do this for about 3 minutes on high heat.
10. Turn down heat to medium and add pasta. Stir to combine.
11. Finally add spinach, stir again to incorporate all the flavors!! Cook another 2 minutes. Remove from stove, add more salt and pepper if like, or even some red pepper flakes for some heat!!! And ENJOY!!!
Ever Onward,
Jennifer Esposito