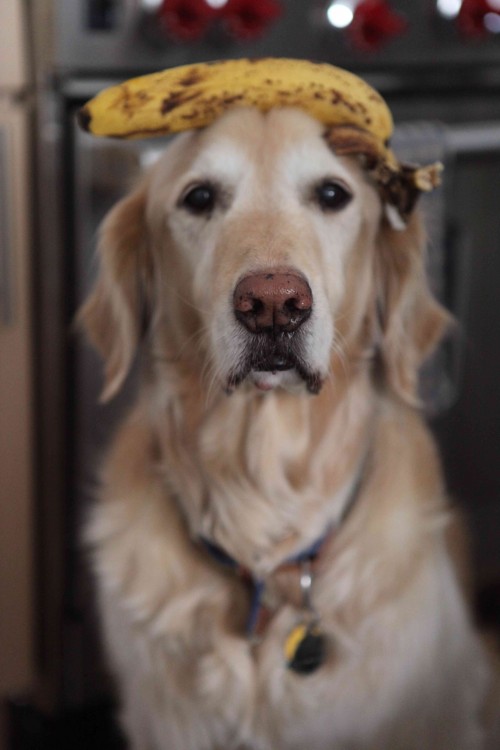 Frankie Beans always seems to have bananas on his brain! Every time I go in to the kitchen or even close to the kitchen where the bananas are he stares at me with a look that says "give me that banana!" This boy has loved bananas ever since he was a pup. Bananas and apples and carrots – the BEST treats for your doggies! They're good for us to eat and just as good for them. As I'm standing there looking at these two very ripe bananas and one funny pup, I think banana cookies! Frankie happily agreed.
On another note, which leads to why I chose these specific ingredients, I have been feeling not my best and most recently been dealing with my eye lashes falling out. Which is always wonderful… I went to a few doctors and dermatologists and as usual got no specific answer which is the usual answer at this point. So I started my own investigation and will follow up in another post with what I found in detail. But the reason for these banana cookies is because I wanted to try to bake a treat taking out as many allergens as I can, even eggs. Maybe there was something else that I was allergic to?!? I knew it wasn't nuts so I kept the almond flour and everything else was going to be as pure as possible.  Me and My Troop went in that kitchen and started working.
With Frankie steady by my side, I set off for a cookie that was gluten free, dairy free, soy free, xanthan gum free, corn free, egg free, refined sugar free, and low in sugar as well. Pure manic how these cookies didn't come out taste free! Because these cookies came out so good!!! After a few attempts with the batter I got a moist savory cookie that kept fresh in my cookie jar for 6 days and would have kept longer but they were gone! And they would keep even longer if you kept them refrigerated. These delicious cookies are good for you and anyone you love, even a bite for your furry friend.
Banana Cookies
preheat oven 400*
1 cup almond flour
1 cup quinoa flour
1/4 cup arrowroot flour
3/4 cup certified gluten free oatmeal
1 tsp salt
1/2 cup maple sugar
1/2 tsp baking powder
3/4 tsp baking soda
1/2 tsp cinnamon
1/4 cup grape seed oil or canola oil
1/2 cup almond milk
2 very ripe bananas
1/2 cup chopped walnuts (optional)
Baking sheet lined with parchment paper.
Directions:
1. In large mixing bowl combine all dry ingredients and whisk out lumps.
2. In separate bowl mash bananas with fork then add oil and milk, combine until creamy.
3. Add wet ingredients to dry and mix until combined, then fold in nuts.
4. Scoop out mixture with spoon and place on parchment paper and bake for 13-16 minutes depending on how soft you like your cookies. Enjoy!!!
Ever Onward,
Jennifer Esposito