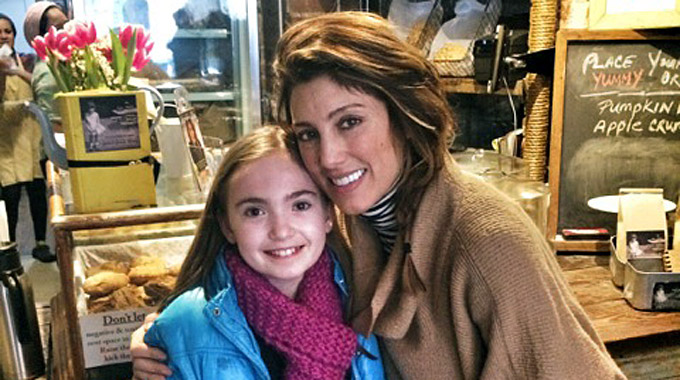 With so much craziness going on lately I sometimes get pulled into the nonsense and get taken from my actual purpose here…to help. That's all. I don't wish to argue, beg or plead with anyone anymore for them to understand, have compassion, offer a few moments on their talk show or for a write up in their magazine. It's become painfully obvious that some just do not want to hear about this disease and what I have to say about it.
And then I remembered my new friend Lauren. One busy weekend I received a call from my friend who asked if I had some time to come and speak with her friend's daughter Lauren. Lauren and her Dad had traveled into Manhattan from out of town for a visit with a doctor specializing in Crohns Disease. My friend told me Lauren was not doing so well and life for this 12 yr old had been very trying as of late.
She was already dealing with Crohns disease and now celiac was suspected as well. Lauren had been so ill that she was visiting the hospital every 5 weeks for transfusions. To feel empowered by this disease and not defeated she decided to raise almost two thousand dollars (from her lemonade stand) to buy stuffed animals for the other children at the hospital having transfusions as well. Parties in school, sleep overs and every day life was very different then what her friends were experiencing and of course this all made her quite sad.
My friend thought if Lauren could just meet someone who has dealt with a similar illness and had to obey a strict diet and LIFE as well that maybe she would see that there is light at the end of the tunnel and that she was not alone on her journey. Of course I agreed.
Lauren, her dad, my friend and me all sat in my bakery and ate some safe treats. Lauren was a lovely, sweet little lady whose legs swung under the table as she gobbled up all the safe treats, the chocolate chip cookies being her favorite. Her dad had seen some interviews I had done on the subject at hand and was very knowledgeable about what his daughter was dealing with.
They had been through a hard time you could tell but his passion for helping his daughter was unbreakable. It was clear he would stop at nothing to help her. He yearned to see her well, to see her strong, to grow and be able to face the still tricky road ahead of her. To make her trip to NY not all about doctor visits, he had planned a kids delight of theater and all kinds of fun activities. The love between them was obvious and wonderful to witness. I felt such a great honor and responsibility to say the right thing to these two special people who came for a visit. Especially to such an smart and compassionate little girl that sat in front of me.
I didn't want to lie and say everything is going to be great because I knew it wasn't all the time and even more importantly she knew that wasn't. I didn't want to say that eating so restricted was easy because again not true, especially for a child. At that moment Lauren looked at me as the conversation pointed in my direction. She was this open, influential, sincere little being looking at me with such hope and yet I could see that she had witnessed sickness too close for any child to see.
At that moment, this 12 year old and I shared something that age defied. I understood. I understood and I was living proof that she could be okay and not in some candy coated slap on the back way; really be OKAY. With all the sincerity and passion that I had, I told her that no matter what happens she could handle it. She could take this hurdle in life and still keep going and prosper.
I told her that although it gets rough at times and she miss some parties with friends and such it was still something she could still live her life and enjoy. She COULD take her life back. I told her to take some control over her health by learning about what food her body did want and the what food it did not. To get in the kitchen with her dad and get creative.
But most importantly I told her that although I did not have Crohns, I did relate to all she was going through and that she was not alone. She looked at me, still swinging her feet under the table, and smiled.
As the meeting came to an end, I wished them luck on their doctors appointment, gave them treats for the road and asked them to please let me know how it all went.
I questioned my words and truly hoped that I did SOMETHING to ease her heart and give her hope.
A week later I received an email from her Dad saying that the doctor was very helpful and although Lauren had an even more restricted diet and a long long road ahead, she was in good spirits. She had had so much fun in NY and even made a top 3 list. I was moved to hear that I had made that list and placed at #2, right under seeing the play Wicked.
And it wasn't because she had seen me in movies or tv but because her dad said I inspired her.
Her dad then went on to tell me that he did not have time to discuss with me earlier but he had been following my story for awhile. He referred to the horrendous interview I did last year with Dr. Drew. He went on to say Dr. Drew's lack of respect for me and this disease and other gut diseases, of which he had no clue about, angered him on his daughter's behalf.
The callous way I was treated and spoke to made it painful for him to watch. He went on to say that what I was doing was so important, not only for myself but for his daughter and anyone anywhere dealing with these issues. The lack of respect needed to change and If I needed any help on the journey, he and Lauren would be right there.
You just did.
It's in those words and your encouraging words that make all the other nonsense go away and help me refocus on what's important again – helping each other.
A sentence from a recent email: "Stop banging on the doors that are shut and walk into the one that are open wide."
I thank you!
My friend Lauren LOVED the choc chips we make at the bakery and although she can not eat them right now, due to many food restrictions, I created a really close #2 :))
I hope you enjoy!!!!!!!
The Lauren Cookie – Chocolate Chip, Banana, Nut Cookies
What you need-
1/4 cup Nut flour ( I used hazelnut flour, feel free to use another nut if you like) Soaking nuts aids in making the, more digestible
1/4 arrowroot starch
1 very ripe large banana
1 tsp honey
2 Tbsp sun butter or pecan butter or almond butter
1/4 tsp cinnamon
1/4 tsp fresh vanilla
dash of himalayan sea salt or celtic salt
1/4 cup Choc Chips – I used Enjoy Life brand
sprinkle of nots-optional
Preheat oven to 350
THE FUN PART-
-mush Banana between hands and place in bowl
-add nut butter and mix
-combine all dry ingredients in separate bowl and whisk through lumps
-add a little dry mix to wet at a time and mix with fork until all combined and a dough forms
-take a tsp full of dough and place on parchment covered baking sheet. Dip a fork in water and press down cookie
Place in oven and bake 12-18 min depending how crunchy you would like your cookie.
EAT UP!!!!!!
Be Well.