This time of year you want something warm, cozy, yummy, rich and satisfying! Well I have just that for you – a butternut squash lasagna. Usually this type of thing is made with heaps of butter and a bechamel sauce that is made with butter and cream and milk and all sorts of ingredients I know I can not have as a celiac and anyone who is even looking to lose some weight shouldn't have or high cholesterol… And as a celiac we can not have traditional lasagna, so I decided to attack this venture one rainy afternoon and my results were astounding! My recommendations on making this is to be really hungry because it is rich and satisfying – yet it is packed with vitamins and vegetables and good and good for you ingredients.  I've made the bechamel sauce out of cauliflower and I promise you – you do not taste the cauliflower and take this from me, because I do not like cauliflower.  When this is done you'll have a creamy rich sauce that is just sinful – at least it tastes sinful.  So, for your next gathering, or whatever Holiday or occasion you will be celebrating this is for you and I promise this is a great way to sneak vegetables in for your kids because they will never know! If you can have dairy,  by all means put it in there or stick with the recipe I made below. This meal truly-truly fooled my celiac free friends!  I enjoyed this with a side of a spinach, pomegranate, and fennel salad with light olive oil and lemon dressing, it has a nice clean crisp taste to go with this heavier dish. A tip when making this – make as many layers as you can with the goal of 10 layers. The butternut squash is thick and the sauce is thick, and you want the dish to have some firmness which will come from the pasta. This recipe has few more steps but don't get discouraged – it is well worth the end result!! YUM!!!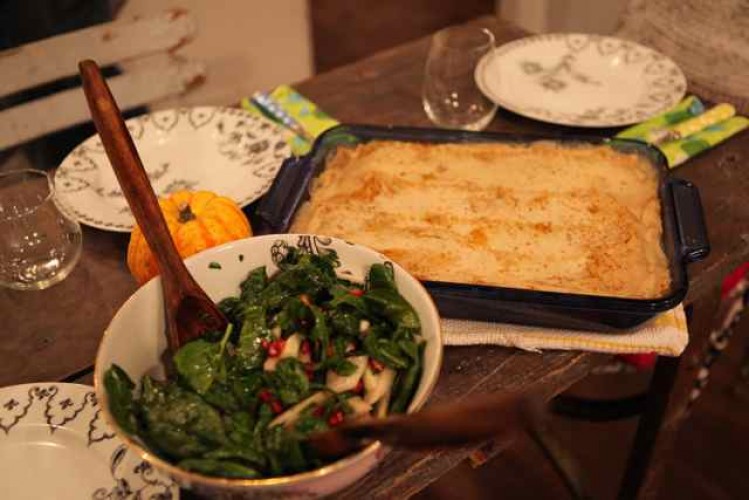 Roasted Butternut Squash Lasagna
Ingredients:
2 large butternut squash
4 tbls olive oil
1 tsp salt pepper
2 boxes gluten free lasagna noodle
Butternuts squash filling (will be added to butternut squash when finished cooking):
simmer 1/2 cup Earth Balance
1/4 cup sage (chopped)
3 tbls nutmeg fresh
3/4 cup almond milk
4 tbls finely chopped hazelnuts
Bechamel Sauce:
4 tbs olive oil
3 cups cauliflower heads
1 cup water
1/2 cup onion
2 tbls nutmeg
1 3/4 cup almond milk
1/2 tsp course salt
6 tbls Earth Balance or butter
3 tbls tapioca starch
Step One:
Preheat oven to 400
1. Cut squash in long length wise. Drizzle with olive oil, salt and pepper. Place cut side down on baking sheet for about 1 hour – should be brown and able to put fork through it. When cool, scoop out flesh from skins and puree in food processor.
2. While squash is in the oven put a large pot full of water on medium flame to boil for pasta. On low heat, in small sauce pan add Earth Balance (or butter), 1 tsp salt, sage, almond milk, nutmeg and hazelnuts, combine until smooth.  Add more salt to taste.
3.  In a food processor combine the scooped out butternut squash and mixture from step two until smooth, set aside.
4. Make the bechamel sauce – place onion in a saucepan with 2 tbls olive oil until onion is translucent. Add chopped cauliflower to onion for minute or two, then add water and cook cauliflower until soft. Place in food processor until pureed. Leave in food processor.
5. In same saucepan add milk of choice (I used Almond milk), tapioca starch, nutmeg, salt and stir or whisk for 2 to 3 minutes on low heat. Want to work off the flour taste.
6. Add mixture to cauliflower already in food processor and puree adding in remaining olive oil.
7. When water is boiling put in pasta and stir until just soft enough to bend but not quite done. Every gluten free pasta is different so check the box.
8. Strain pasta and rinse with water. I suggest this because gluten free pasta tends to be very starchy but again check your pasta box.
Step Two:
Assembling lasagna (for 10 layers adjust thickness of layers according to your lasagna pan):
1. Take small amount of bechamel and distribute on bottom of dish.
2. Take pasta and line bottom of dish (side by side). Cover entire bottom (might want to have pasta sheet hang over sides then fold at the end).
3. Take butternut mixture and place evenly over pasta.
4. Repeat layers of bechamel, pasta, and butternut mixture ending with bechamel sauce on pasta and freshly grated nutmeg.
5. Bring oven down to 375, cover lasagna with foil and bake for 20 minutes. Take off foil and bake uncovered for 35 more minutes.  Enjoy!!!
Ever Onward,
Jennifer Esposito